How Can It Be Useful To

Stream to FaceBook From Our

RTMP

Server

?
Facebook Live is a live video streaming service that allows you to broadcast a live event to your audience via your company page or personal profile. Live videos will appear in an individual's news feed during and after the event.
Using the Facebook app on your mobile device or a camera and streaming software, you may stream live from your Page, group, profile, or event (also called an encoder). You'll need a live producer to broadcast a live stream using a camera and encoder. Using our RTMP URL, provided to you on our customer RTMP control panel,  you can publish your live streaming services to Facebook.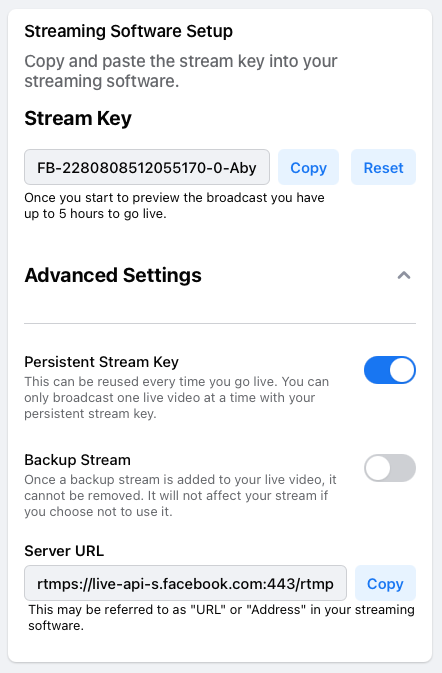 To use Facebook's live broadcast, follow these steps:
Follow these procedures to use the live broadcast on Facebook once it has begun in the Live module.
Log in to Facebook.

Make a new post and select the Live Video option.

Facebook may request access to your camera and microphone. Because this topic uses an external

digital single-lens reflex camera (

DSLR) camera for the event, click Connect.

Facebook will display a Server URL and a Stream Key. The Live module will make use of these values.

Save the server URL to your clipboard.

Paste the Server URL into the RTMP Output URL field on the Live module's Control Room page.

Copy the Facebook stream key to the clipboard.

Paste the stream key at the end of the RTMP Output URL box in the Live module. The RTMP Output URL field will contain the Facebook server URL appended with the stream key as a single value.

From the Select, an associated format drop-down list, choose an associated format, then click Add RTMP output.

Verify that the connection was successful in the RTMP section.

Verify that the live feed is visible on Facebook. Fill in the title and description for Facebook.

Go Live by clicking the button.
The Facebook live stream will begin.
To end the Facebook live feed, click Finish. When the event is over, remember to stop the encoder.
Simulcast is a combination of the words "simultaneous" and "broadcast," It refers to a simultaneous transmission.
Simulcasting allows you to share media across all your channels simultaneously, saving you time and money on developing unique content for each channel where you have an audience.
The RTMP Server allows you to simultaneously stream to many platforms, such as Facebook, YouTube, and other social media, allowing you to reach a significantly larger audience for your live streams. This function is really simple to use and can greatly increase the reach of your live streaming.
Expand your audience and reach more people by using this ability to broadcast to various platforms simultaneously.