What exactly is an RTMP?
Online video technology, known as Real-Time Messenger Protocol, or RTMP for short, has greatly influenced the growth of streaming internet video.
Before being purchased by Adobe, Macromedia created it to distribute video, music, and other media elements for advertising. Although this program is now largely obsolete, RTMP was primarily designed to stream with Adobe's Flash player and is frequently referred to as "Flash streaming."
RTMP capture, the protocol's current most popular use, entails communication between an encoder and an online video platform.
What are the benefits of the RTMP protocol?
RTMP is a frequently used protocol due to its low latency, versatility, and ease of integrating different media.
In conclusion, the main advantages of RTMP are:
Low latency

Flexible

Easy to integrate different media
Low Latency
Low latency ensures stable video connections. Viewers of live-streaming content like webinars benefit from swift feeds with no lag.
Flexible
Viewers are free to consume feeds in any sequence they choose because of the flexibility of the RTMP protocol. Instead of needing to be watched linearly, RTMP feeds allow for skipping, rewinding, and joining after they have begun.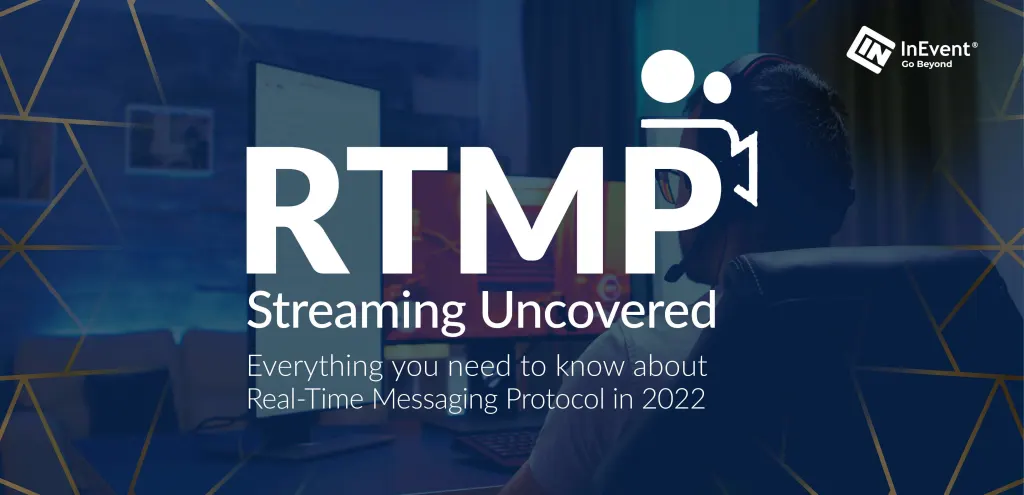 Easy To Integrate
The RTMP protocol enables users to merge many media types into a single source. This proves that combining text, audio, and video is possible. There may also be more media channel alternatives. For instance, MP3 and AAC audio streams can be transmitted via RTMP.
RTMP employs three important components to facilitate streaming: a server, an encoder, and a player. The RTMP server is in charge of receiving and delivering streaming media to viewers. Encoders are software or hardware devices that convert audio and video into digital formats that can be transmitted over the internet. The player is a software or a plugin that allows users to view streaming media on their computers or devices.
RTMP servers are classified into two types: open-source and proprietary. Open-source RTMP servers like Adobe Media Server and Red5 are free to use and modify. Private RTMP servers, such as Wowza Streaming Engine and Nimble Streamer, provide more advanced functionality and support but usually need a licensing cost.
For RTMP streaming, numerous encoders are available, including hardware and software encoders. Hardware encoders are physical devices that plug into a computer or network and use real-time audio and video encoding. Software encoders are computer applications used to encode music and video for streaming. OBS Studio, Wirecast, and XSplit are some popular RTMP software encoders.
OBS Studio: OBS Studio is a free, open-source encoding tool ideal for broadcasters just starting out. 
Wirecast: Telestream's Wirecast is a well-known software encoder. Because it starts at $599, this program is more appropriate for broadcasters with more experience.
XSplit: XSplit Broadcaster offers robust functionality, such as several audio tracks, that let you record your broadcast as it is happening. For simple editing during post-production, add queue points. You can simultaneously broadcast and record various scenarios using numerous recording profiles! Consequently, you might stream while recording gameplay footage with your camera and overlays turned on!
Try free RTMP Server for 5 Days.