WHAT IS THE DIFFERENCE BETWEEN RTMP VS. HLS?
There are many technologies used to transmit video over the internet. Protocols for video streaming are one of the fundamental technologies required to achieve this. The industry offers a wide variety of video streaming protocols. Two of the most widely utilized protocols today are HLS and RTMP. There are benefits and drawbacks to each of them. Which one ought you use, then? To respond to this question, we must first comprehend these protocols, their components, and how they function.
Real-Time Messaging Protocol (RTMP) was created by Macromedia and is a TCP-based streaming protocol that Adobe later purchased. It is popular because it provides live video streaming with low latency and durable connectivity. HLS, however, stands for HTTP Live Streaming. It is a protocol built on HTTP that Apple created. Most devices and browsers support HLS, making it one of the most widely used streaming protocols.
This article will contrast the RTMP and HLS protocols regarding their attributes, benefits, and drawbacks. You can then determine which protocol best meets your streaming requirements.
What is RTMP?
Real-Time Messaging Protocol, or RTMP, is a TCP-based protocol. The live streaming system streams videos from sources to servers using RTMP to distribute them further. The RTMP protocol encodes the live videos before sending them to the viewer's devices. Before transmitting streams to servers, this protocol divides them into pieces.
The RTMP stream fragments are sent to particular software clients or media players by RTMP servers. The RTMP protocol is subsequently decoded by software clients or media players, which convert the media to HLS, transmit it, and then send it to the viewers. One of the most often used protocols for live broadcasting videos is RTMP. It has several advantages, such as persistent connections and minimal latency.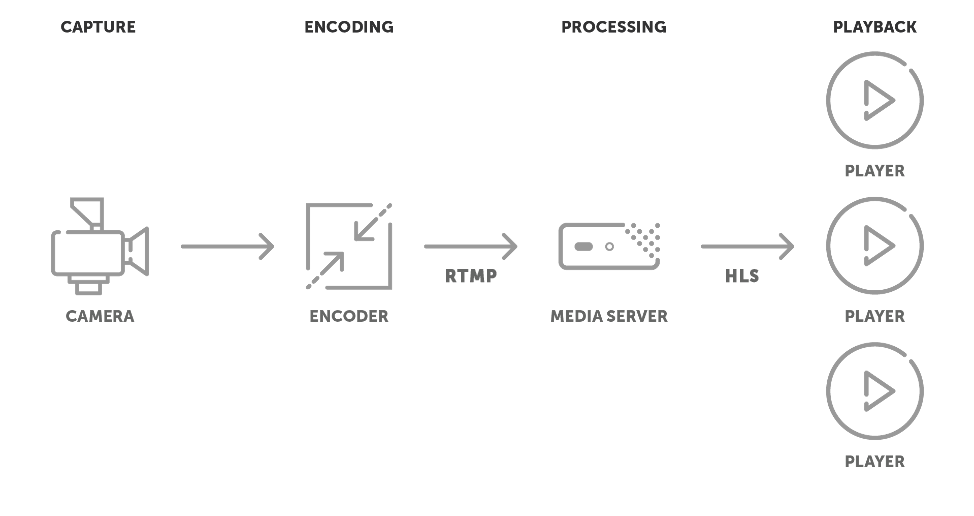 Advantages of RTMP
Supported AAC, AAC-LC, HE-AAC+, v1, v2, MP3 audio codecs

Supported H.264, VP6, VP8, Screen Video v1 & v2 video codecs

A Minimum of Buffering

Less latency (5 seconds)

A variety of formats, including RTMPS, RTMPE, RTMPT, and RTMFP
RTMP Disadvantages
Not extensively supported

No longer being maintained.
What is HLS?
HLS, or HTTP Live Streaming, is another well-liked streaming protocol. It is a media streaming communications protocol built on HTTP that Apple Inc created. Live and on-demand content are streamed at variable bitrates using the HLS protocol. This indicates that the video quality automatically changes based on the viewer's internet connection.
Benefits of the HLS Protocol
Supports streaming at an adaptive bitrate

Support most devices with HTML5 Players

Quick and simple to set up

No need for additional plugins or software

Better live streaming support with decreased latency

Protection of content

Trustworthy

Ability to scale

Reduced latency
HLS Disadvantages
Frequently needs transmuxing

Since it is an Apple proprietary technology, it has yet to be widely supported.
A Conclusion
Because of its low latency, we at RTMP Server use the RTMP URL which we provide to the customer on the dashboard, this RTMP is then entered into their encoder. This then streams the media to our servers, which is then encoded and converted to HLS, which then allows our customers to add a player to their site or send it to social media like YouTube or Facebook.